DS4000/DS4001

Future-Proof Your Data Center
with Scale and Performance
The DS4000/DS4001 offers high-density and
high-performance to meet new data center networking demands and data center challenges in the cloud era. The DS4000/4001 family is ideal for spine-and-leaf deployments in enterprise, service provider, and cloud provider environments.
Overview
Features
Applications
Resources
Contact Us
Superior low latency and power
efficiency in a clean PHYless design

Switching capacity: 12.8Tbps IO Bandwidth, 64MB (DS4000) or 70MB (DS4001) Buffer
Industry-leading 400GbE switch in a compact 1U form factor

Optimized for enterprise, service provider, and cloud provider environments
400GbE Data Center
Leaf / Spine

Interfaces

32 QSFP-DD 400GbE Ports, CPU/BMC shared Management (RJ45) and Console (RJ45) ports, USB (Type A)

Processor

Intel Xeon D 2.2Ghz Dual-core (up to 16-core), 4-32GB ECC DDR4, 64GB up to 1TB M.2 SSD

NOS

ONIE installer to support third-party network operating systems

Power

1100W peak consumption with 12W QSFP-DD,
1+1 redundant, hot swap PSUs;
100-240VAC auto-ranging, 47-63Hz or 180-300VDC auto input

We are pleased to launch the next generation of our industry-leading Titan G2, high-density JBOD storage hardware platform solution. Watch the video to learn about the platform features and how we're unlocking the potential of tomorrow's technologies, today.

Our Hardware
Platform Solutions

Extend product life with
our After-Market Services

For more information,
please contact us:

North America:
+1 888 899 9998

E-mail:
contactus@celestica.com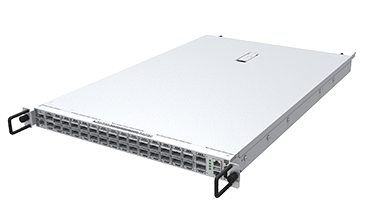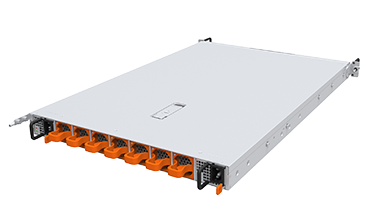 32 QSFP-DD 400GbE Ports
(144(DS4000) or 168(DS4001)
available sub-rate ports)

High-performance 400GbE Data Center Switch

CPU/BMC shared Management (RJ45) and Console (RJ45) ports

Resiliency with hot-swappable
redundant PSUs and fans

High performance Intel Xeon D 2.2Ghz Dual-core (up to 8-core) Processor

Open Network Install Environment (ONIE) for automated loading of compatible open source and commercial NOS offerings


Scalable Data Centers
and Big Data Applications

Enterprise Aggregation
/ Core

BMC System Management Option for remote monitoring and management

Operational efficiency and improved time-to-deployment

Multiple configurations supporting front-to-back or back-to-front airflow requirements